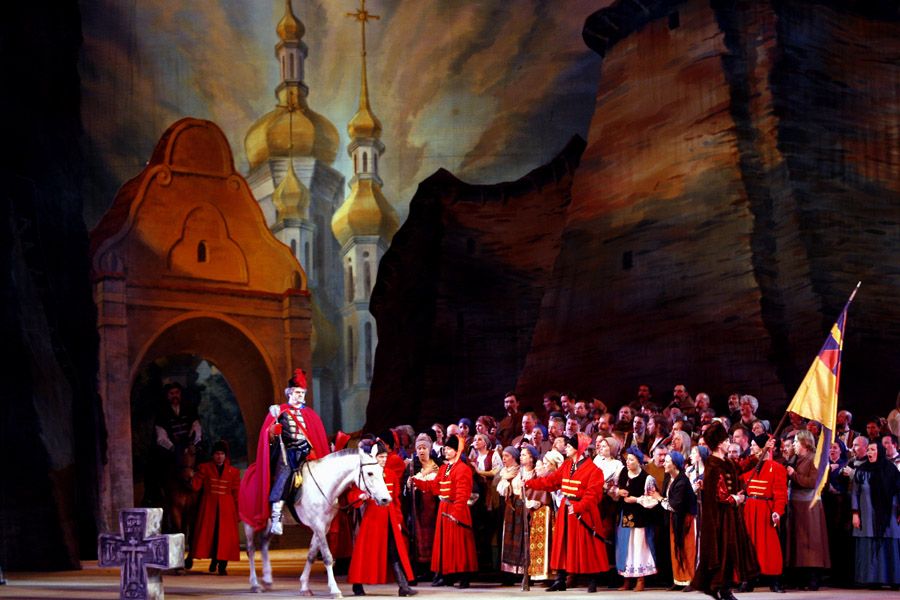 A scene from the production. Photo from mariinsky.ru
It is hard to understand why
Mazepa
is one of the Russian classics that never made it to world acclaim. Tchaikovsky's soft and skillful orchestration builds up a compelling dimension to Pushkin's drama, featuring elegant natural-sounding singing lines and beautiful melody.
Mazepa
is a striking tale about love and madness; friendship and honor—set in Peter the Great's early 18th century. The current 1950-premiered production matches the libretto beautifully. There are several layers of 2-dimensional sets reproducing 18th century Russia: a beautiful courtyard filled with trees, overlooking a river in the background for act 1, scene 1; a grand hall in Kochubei's house for scene 2 and an urban area with towering precarious buildings during the execution scene. This realistic visual support—backed up by amazing historical costumes—lends support to the building of the drama. PZ would have liked to see some more introspection sometimes; apparently, one of the problems of the old-fashioned productions is the lack of update in choreography. How can Maria's mother just weep on the floor when her daughter collapses to the floor as she sees Kochubei's head rolling from the executioner's sword? In the final scene, Orlik urges Mazepa to hurry and "leave that wretch", but both basically stand still for some half a minute. One would have expected to see more movement in some scenes.
One of the reasons that make
Mazepa
such an interesting opera is Mazepa himself—and Maria's strange love for him as well. When he asks Kochubei to marry his own goddaughter Maria, he argues that his old heart knows how to love best and is not as flick than a young man's. But why Maria, if the price is breaking his long-term friendship with Kochubei? Nicolai Putilin presented Mazepa just as one would expect; he does in fact have a white beard as the libretto requires and sings just as though he was Mazepa. Putilin's commanding, piercing voice has lost its agility but still remains a powerful and penetrating presence—just like his character is supposed to be. Tatiana Pavlovskaya's Maria was moving; her last scene was heartbreaking. One cannot really blame Maria for choosing her love, whether motivated by a lucid state of mind or otherwise. After being fatally wounded by his fleeing rival Mazepa, Andrei dies just beside his beloved Tatiana, who is in such delirium she is not able to recognize him. Viktor Lutsyuk gave a passionate account of Andrei's feelings, with a bright and vibrating voice. Kochubei was convincingly portrayed by Mikhail Kit. Kochubei's fellow-condemned friend Iskra has only a few lines, but those were just enough to get PZ's attention. Next time, look for Leonid Zakhozhaev's name for main wagnerian roles. Grigory Kasarev's brief bass interventions as Orlik were a surprise, resembling a flashback from a 1920s or 30s Kirov recording.
Mariinsky's orchestra played Tchaikovsky's music beautifully under Pavel Smelkov. The battle entr'acte felt a little too loud and wasn't an overall electrifying experience; nevertheless, Smelkov respects singers' capabilities and provides an excellent mould for the drama, which frequently occurs in a natural speaking rhythm. (It is curious because Russians actually speak really fast in real life.)
Mazepa
at the old Mariinsky was an amazing experience—definitely a must-see for any opera lover who drops by in St Petersburg and finds it on the playbill.
★★★★★